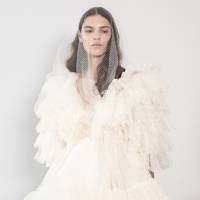 The modern wedding has become less about going-to-the-chapel tradition, more about choosing your own adventure. If you're Karlie Kloss, this means taking a couple of months between saying 'I do' and the first dance. For Idris Elba, it was a three-day extravaganza in Morocco. Even the Duchess of Sussex broke a couple of age-old customs at her royal wedding, because why should anyone have to follow the rules when it comes to celebrating their personal love story?
Helpfully, the biggest wedding trend for 2020 is individuality. The industry is evolving, which thankfully means brides are no longer pigeon-holed in either the 'traditional' or 'boho' category. Plus, guests no longer endure a summer of déjà vu at a series of identikit weddings (are we really still tossing bouquets?)
"Over the last few years I have seen a change in how couples want to plan their weddings," says Elizabeth Walshe of Weddings by Elizabeth Walshe. "They are more inclined to choose modern, contemporary celebrations creating an ambience or a mood, as opposed to being led by trends, colours and themes."
Here, Vogue breaks down the 2020 wedding trends to consider when planning your own bespoke big day.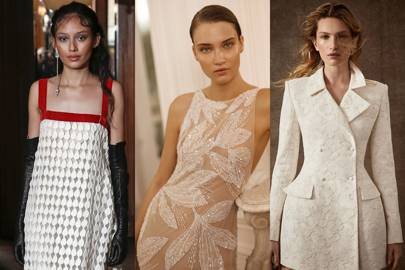 Wedding dresses
If you've always dreamed of wearing a big white gown on your wedding day, then there's no shortage of options. Take your pick from Carolina Herrera to Marchesa and live happily ever after. But if, like many brides, you have no idea what you want to wear – you just know you want to look and feel like yourself – then consider yourself lucky to be getting hitched in 2020. The new generation of bridal designers have hit their stride, and are offering up a world of choice for the bride who doesn't want to look too "bridal", or wants to wow in multiple looks on the day. Names to have on your radar include Dana Harel, Hermione de Paula, Monica Byrne and Danielle Frankel.
"There is a certain maturity in the customer that is usually forgotten in bridal," says Danielle Hirsh, of New York based bridal label Danielle Frankel. "I design for the woman who is already well acquainted with what works for her." Having previously worked at Vera Wang and Marchesa, Danielle's elevated approach to fuss-free wedding dresses, separates and even knits is attracting modern brides (Zoë Kravitz among them) and industry accolades – Danielle is a finalist in the 2019 CFDA/Vogue Fashion Fund.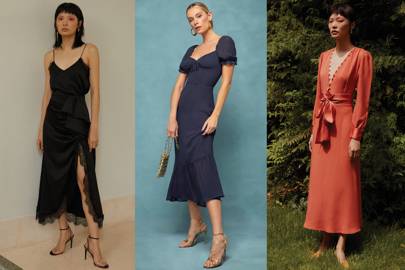 Bridesmaid dresses
Having bridesmaids is one tradition that will never die, but the question of how to dress them has evolved. Some labels are coming to the rescue of brides who want to showcase their friends' personalities, rather than putting them in a pastel uniform. Mix and match styles with contrasting colours, necklines and prints are thankfully on the rise, with labels like Reformation, Needle & Thread and Les Héroïnes by Vanessa Cocchiaro making the task of keeping your closest friends happy on the day a little easier.
"Bridesmaids are a very important tradition, one that you share with your closest family and friends," says Vanessa Cocchiaro, of Paris-based label Les Héroïnes by Vanessa Cocchiaro, which caters to bridesmaids as well as brides and wedding guests. "So it was important for me to design pieces that people enjoy wearing, and most of all that they can wear again."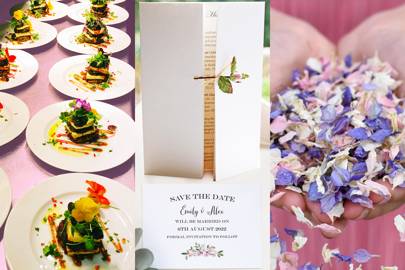 Sustainable weddings
"From the travel required to gather everyone in one place, to the food waste produced by the meal, my clients are definitely looking for ways to reduce the environmental and ethical impact of their wedding," says wedding planner Alexandra Pisani. Last year Princess Eugenie even spoke to British Vogueabout her plans to have a plastic-free wedding. And while not everyone has a royal budget for their big day, according to Alexandra, there are plenty of relatively easy ways to make your wedding sustainable – from using wedding stationery made from recycled paper to finding a catering company that source ethical, local and organic produce. "For favours, a charitable donation is really popular too, as well as asking for a donation on the gift list alongside a traditional registry."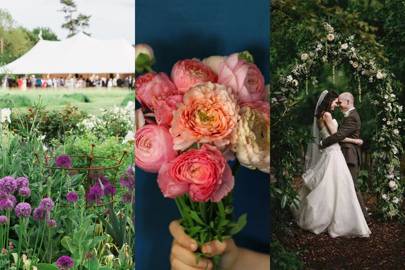 Wedding flowers
It isn't just the straws in guests' post-ceremony Aperol spritz that have become more sustainable. More and more couples are choosing florists that use locally grown seasonal blooms, wildflowers or dried flowers. Some couples are even going one step further and opting to grow their own flowers, or simply incorporating already existing gardens into their big day.
Elizabeth Walshe recently worked with an Oxfordshire groom, who is a garden designer, to create a beautiful setting in a meadow for his big day. "We left the grass to grow all year, wildflowers were planted, and then just before their wedding day, a magical walkway was created from the church to their marquee by mowing a winding path through the grass and wildflowers." Don't have a meadow at your disposal? Living plants are another option for adding greenery to your big day. "It's a classic shade that goes with everything and a fabulous foliage archway can really wow, with far less environmental damage," says Alexandra Pisani.
As for bridal bouquets, according to Olivia Liddiard-Hibbert, client and sales manager at Maison de Fleurs, it's all about personalisation. "Brides are asking for more specific flowers to be incorporated, even hiding objects in their bouquets that have meaning to them."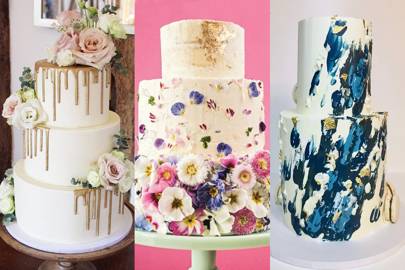 Wedding cakes
Judging by the most recent crop of celebrity weddings, cake is one tradition couples are not skipping – Mandy Moore served 12 different cakes at her wedding in November 2018. Wedding cakes have evolved from the traditional fruit and fondant kinds into towering works of art covered in anything from edible flowers to dripped icing, brush strokes to gin flavouring. Not forgetting the very Instagram-friendly geode cake. Even the Duke and Duchess of Sussex got creative and served a modern lemon and elderflower confection at their wedding reception.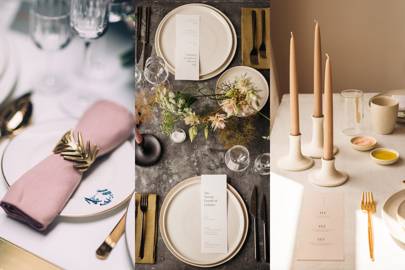 Wedding decor
It's hard to deny Instagram's enduring influence on wedding day decor. To scroll through your feed on any given Sunday in summer is to be bombarded with aesthetically pleasing tablescapes. To keep things interesting, couples are becoming more creative and sophisticated with their requests, the experts say. "In general my clients want a more tailored look and approach to their wedding," says wedding planner and stylist Anne Ladegast-Chiu, of HILDE. "Something that feels fresh and 'them', as opposed to a more typical wedding look."
Alexandra Pisani agrees there has been a marked shift away from the two-colour schemes that couples used to focus on. "It's more about the atmosphere and vibe rather than matchy-matchy tablescapes," she says.
To create the overall vibe, the devil is in the detail, they say, from the colour of the cutlery to the texture of the tablecloth. According to Elizabeth Walshe, unique lighting has also become a key focus, with on-trend weddings featuring a mix of hanging pendants, lampshades and chandeliers.